HUGH JACKMAN GETS COMFORTABLE
In early 2019, Hugh Jackman became a more integral part of the R.M.Williams family as our global boot ambassador. "R.M.'s have been a part of my life across the entire journey, from my early stage days to where I am today," Jackman said in a statement at the time. "It's an honour to be a part of the R.M.Williams family and to wear the brand's iconic craftsman boot for the campaign."
Little did we know it would be the only thing he would wear.
R.M.Williams strongly supports our Global Boot Ambassador Hugh Jackman and we are very proud of our association with this truly undeniable character. Our beautiful and purposefully designed footwear is built using 80 hand-crafted processes to deliver superior comfort. Indeed, perhaps too much comfort.
To be clear, R.M.Williams encourages all people - including Hugh Jackman - to wear clothes. Clothes have many amazing benefits from making the wearer look stylish to making meetings way less awkward.
As soon as this meeting in question ended, we immediately contacted Hugh's counsel to make sure they explain our 'only R.M.Williams boots' contractual stipulation did not apply to other vestments. We are happy to report that Hugh seems to have gone back to wearing clothes, in addition with his R.M.Williams boots.
Reginald Murray Williams once said: "A man doesn't work any worse for looking a whole lot better."

SHOP HUGH'S LOOK - The Craftsman
Comfort that gives confidence for all of life's adventures.

Hugh is a much-loved member of the R.M.Williams family as our boot-only ambassador, but we strongly recommend anyone else completes their look with our quality hardworking, hardwearing workwear, featuring durable denim and premium cotton t-shirts, to protect one's self from the harsh Australian Outback conditions.
*Please note: R.M.Williams accepts no responsibility for furniture abrasions and the like.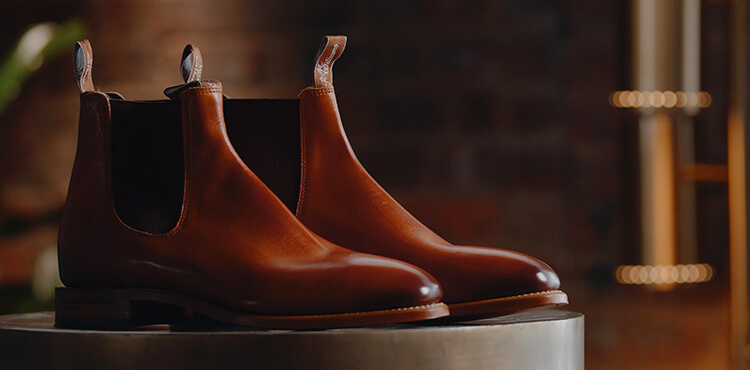 SHOP HUGH'S ENTIRE WARDROBE