INTRODUCING YARD BOOT 365 SECOND CAPSULE

THE YARD BOOT 365 HAS BEEN DESIGNED TO APPEAL TO GLOBAL THINKERS, TINKERS AND CREATORS
The Gardener Boot, first introduced by R.M.Williams in the late 1950s, was hailed as the ultimate hardwearing work boot at the time. The boots were intended as the complete answer to "the combined effects of mud, water and sand" and specifically designed for the purpose of working in long grass, orchards, dairies, swampy or sandy conditions.
While the design philosophy of R.M.Williams hasn't changed (everything we do is designed with purpose for life's adventures), the way we work has – considerably. It's with those changes in mind that Marc designed The Yard Boot 365, ensuring that modern workers, global tastemakers and those who are leading change have an accessible and fashionable boot to support their goals.
Developed and manufactured in R.M.Williams' workshop in South Australia, the limited-edition Yard Boot 365 is available in selected stores and online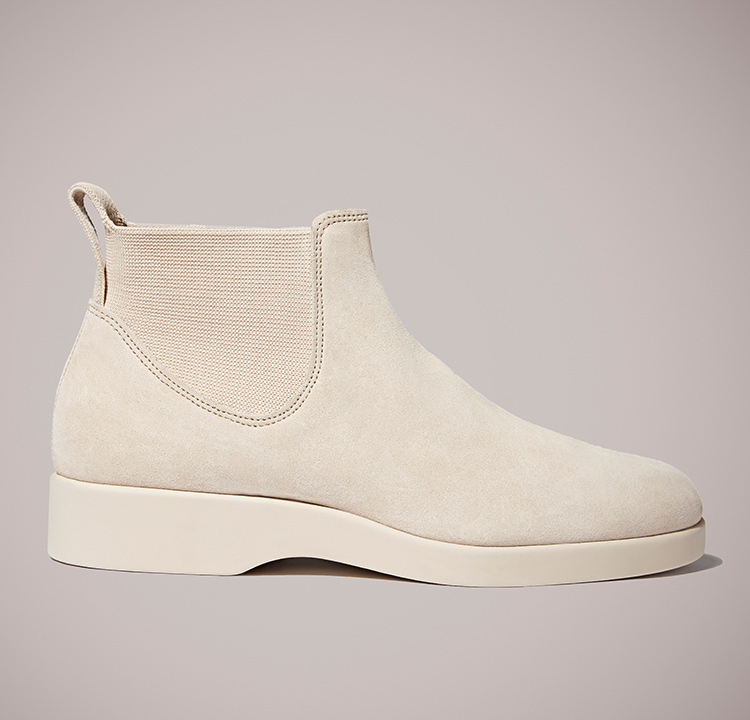 MEET MARC NEWSON AND THE INSPIRATION BEHIND YARD BOOT 365
Sydneysider Marc Newson was the Creative Director of Qantas Airways for more than a decade, and was involved in the design of the Apple Watch. He is listed among the Time Magazine's Top 100 'Most influential people'. We're thrilled to collaborate with one of the most inspiring designers of our era to create a future icon of boots.
To Marc, an Undeniable Character is a pioneer who's been persistent, hardworking and had at least one really good idea. We reckon that's a great way to sum up RM Williams himself.
"As an Australian, I was thrilled to have been asked to design a boot for R.M.Williams, a brand that I have grown up with and have great appreciation for ever since I got my first pair of boots in my early teens. I have had the most fulfilling experience collaborating with this company and especially designing a product that I have always loved."
Marc Newson
"The new Yard Boot 365 is a product which is I hope both modern yet communicates the values and craftsmanship of R.M.Williams. It is always very important for me to integrate the DNA associated with the brand I am working with and incorporate it in the design. It is not about re-inventing the wheel but respecting the DNA of the brand."
Marc Newson
Marc Newson has taken inspiration from the original Gardener and followed our philosophy of "designing with purpose for life's adventures" to create a boot for today's modern work environments. The Yard Boot 365 is versatile enough to suit any style and working space, whether it's the boardroom, cafe, co-work spaces, or the fields. It's a boot that can be worn all year round, whatever the weather.
Inspired by our classic Gardener Boot, the Marc Newson x R.M.Williams collaboration has created a future icon of modern-day boots for the modern-day worker. When the R.M.Williams Gardener Boot launched in the late 1950s. It was designed for working in our long grass, orchards, dairies, swampy or sandy conditions, and was hailed as the ultimate hardwearing work boot of its time.
The Yard Boot 365, designed for both men and women, draws its name from the iconic Australian term, the 'yard', and '365' because of its intent to be a boot that's able to be worn all year round, no matter the conditions. The boot is made from a single piece of leather, a fully engineered elastic gusset with an iconic R.M.Williams tug, under-foot comfort through the addition of Poron padding under full leather sock lining, and a rubber outsole with a minimum 8mm depth in the tread.
87 years in the making

Handcrafted one piece leather upper with single back seam.
Leather lining.
Fully engineered elastic gusset.
Incorporated tug with R.M.Williams embroidery.
Rubber outsole with a minimum depth of 8mm in the tread.
Round toe.
Collaboration branding with 'Sunray' sole tread pattern.