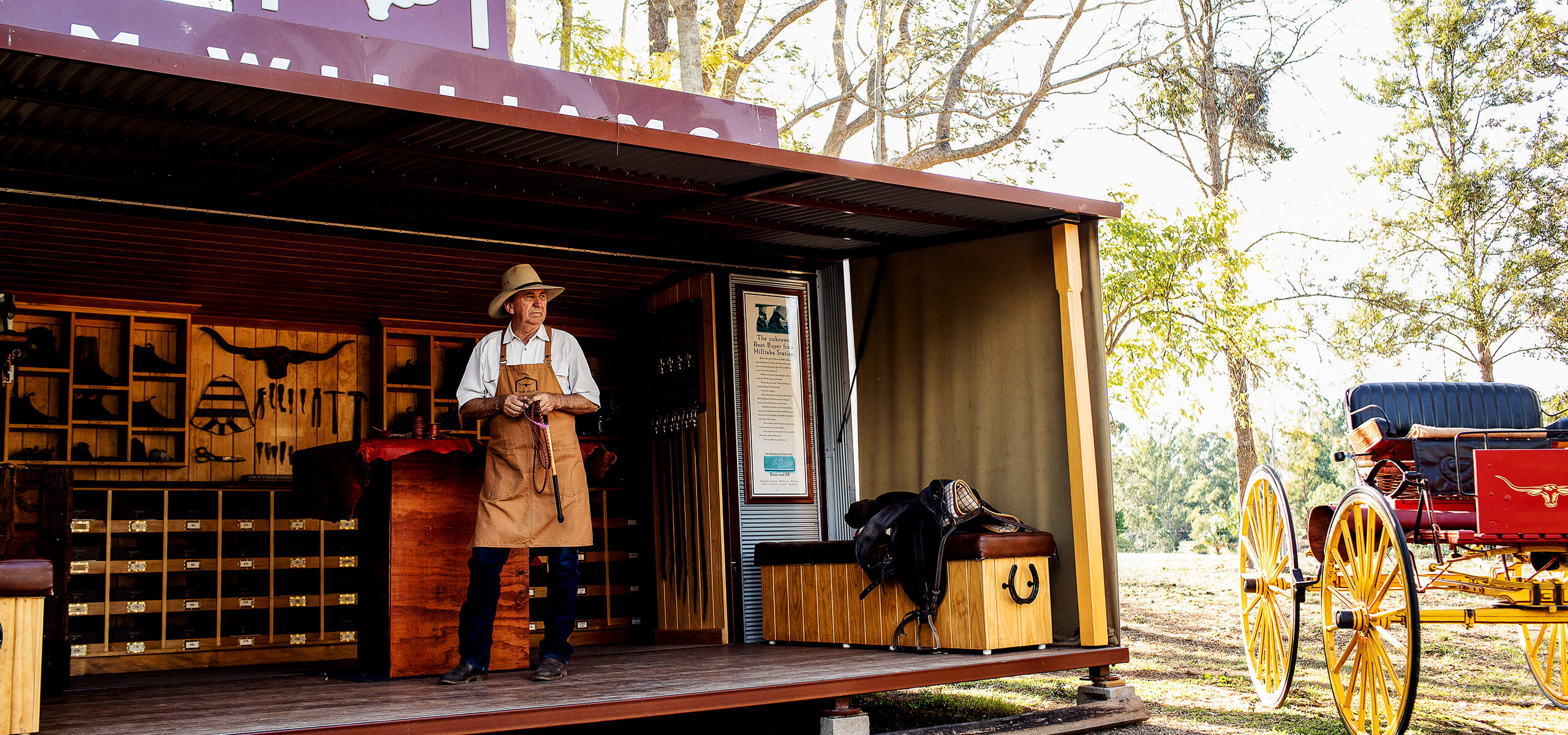 A BUSHMAN'S CRAFT MAKER KITS,
PUTTING CRAFTSMANSHIP IN YOUR HANDS.
Become an honorary R.M.Williams craftsperson! Our Head of Heritage and Heartland Marketing, Terry, will host the new brand series through a range of videos taking you on a craftsmanship journey. Included in the tutorials are guides that demonstrate the skills to produce your very own quality leather goods via our limited edition 'Maker Kits', which you can purchase to then craft at home. Inspired by RM's love of leatherwork, A Bushman's Craft Maker Kits will bring that heritage to you by putting craftsmanship in your hands.
Whether it's a simple keyring made with a Kimberley knot to more complex handy-works such as wallets, belts and sunglass holders, or simply polishing your R.M.Williams boots, Terry's step-by-step guidance will make you a honorary R.M.Williams craftsperson in no time!
And, as we continue to work alongside the passionate craftsmanship community in Australia, we'll build out ideas to extend the Maker Kits range in the future, as we walk together through the lessons and discoveries that are made.
As Terry says: "It's something very simple for people to do – and I look forward to everyone discovering the craftsmanship traditions that have been the cornerstone of the R.M.Williams success story for the past 90 years."
MAKER KITS EXPLAINED
You can follow along with our Head of Heritage and Heartland Marketing Terry guides by purchasing one of our Maker Kits to re-create your own leather piece Inspired by RM's book, Bushman's Handcrafts, and his love of quality handcrafted leatherwork, our Maker Kits are a nod to a tradition that has stood the test of time. And now, you too can master the time-honoured techniques in your own home.
Sunglass pouch
Practice saddle stitching while you make your own sunglass pouch. Made from premium vegetable tanned leather in cognac colour, your kit is ready to sew with needle and thread provided. The leather is pre-punched to help you get started in leather working.
SOLD OUT
DUE TO POPULAR DEMAND THE SUNGLASS POUCH HAS SOLD OUT.
Tez takes us through an important Hint from the Hut, Saddle Stitching.
With a few upcoming Maker Kits this technique will be used quite often and is a skill needed to put your kits together. This is a very simple technique and in this video Tez talks us through it step-by-step on how to perfect saddle stitching. Specifically done for demonstration purposes, Tez uses upscales the materials typically used and talks us through the stitching technique with corflute and hay band to show you this technique on a larger scale. As Tez says, consistency is key, so as you stitch through down the line, make sure to keep it taught and neat.
classic coin pouch
Discover our new maker kit and enjoy crafting your very own nifty and classic coin pouch, by following Terry's guide. Made from premium vegetable tanned leather in cognac colour, your kit is ready to be assembled with an antique brass pouch stud and rivet included.
SOLD OUT3>
DUE TO POPULAR DEMAND THE COIN POUCH HAS SOLD OUT.
Stay tuned for our next Maker Kit, Sunglass Case.
Craft your own leather cord holders
Master RM's techniques in your own home. Follow Terry's guides and craft your own cord holder. A great introduction to learning leatherwork, this kit of 2 holders for your cords, cables and headphones will give you practice in cutting leather.
The kit comes in a moleskin bag and provides you with 2 sets of branded, veg tanned leather in cognac colour and antique brass pouch studs. Templates are provided to trace 2 different shapes.
SOLD OUT
THE KIMBERLEY KNOT
Throughout his life, RM worked with his hands. He was, before everything, a craftsman. His skill with leather was renowned and he was adept at all the bushman's handcrafts having lived and breathed them first hand. He had the ability to weave (or plait) the beauty into the most practical items and give fine form to functional things. The Kimberley knot is no exception.
This knot is used extensively for attaching the bridle reins to a bit ring on saddlery in the Kimberleys of Western Australia. It has the advantages of removing the necessity for buckles as well as giving double thickness of leather to the bit ring – adding greatly to strength and durability and creating an interesting decorative knot.
SOLD OUT