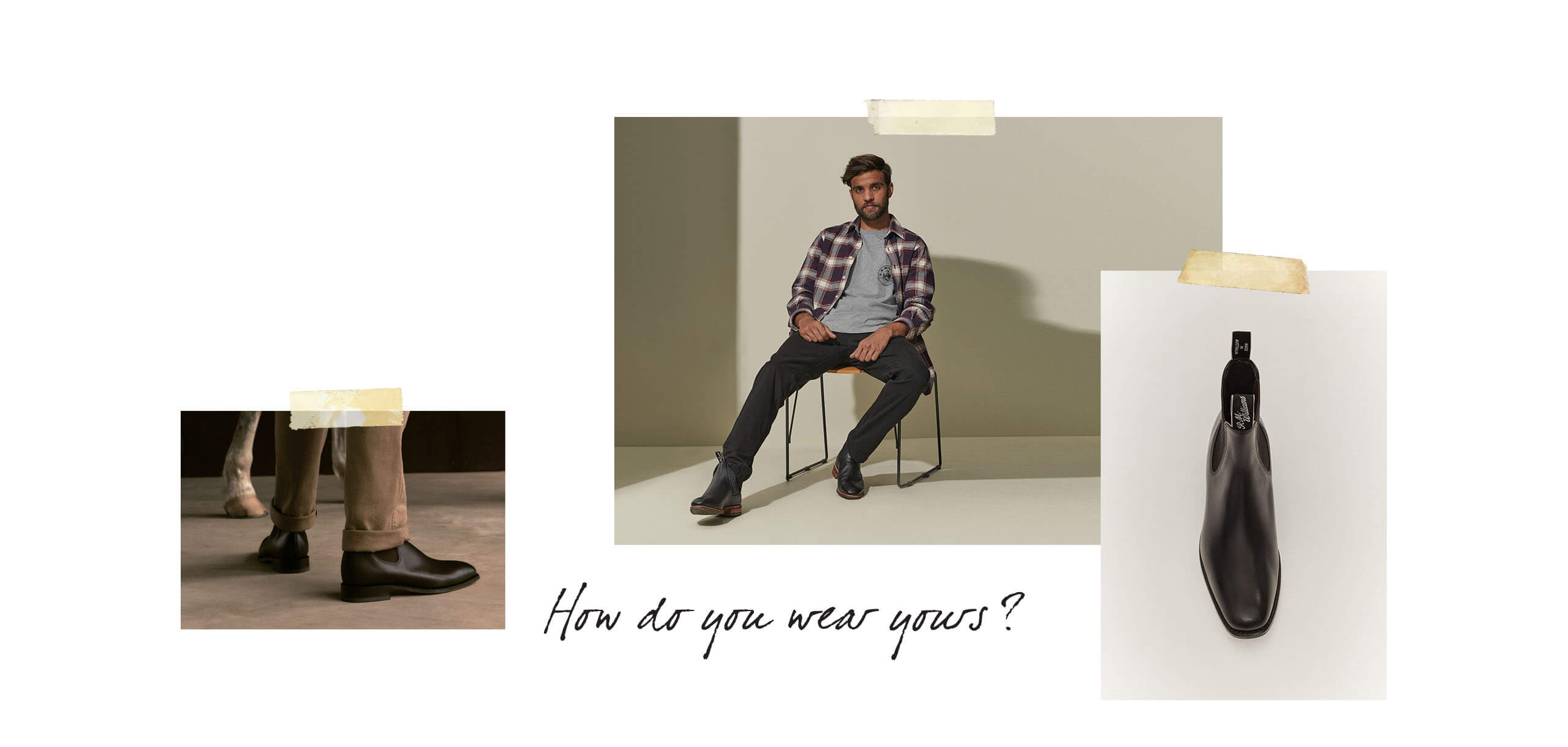 THE CRAFTSMAN BOOT: A STYLE GUIDE
Hard working, hardwearing and ready to take you anywhere in style, the Craftsman boot is a true wardrobe staple for daily dressing. Its innate versatility has established this classic boot as a go-to footwear choice for all ages and all occasions, transitioning seamlessly from the bush to the boardroom; from the red earth to the city streets.
'The iconic Craftsman shape - characterised by the rounded square toe, low profile, and flat heel - has become synonymous with unpretentious, classic, and timeless style. It's not a trend item, rather a staple that will not date and will work into so many occasions of everyday life,' adds R.M.Williams stylist, Gemma Keil.
Below, Gemma takes us through three seasonal looks that showcase the Craftsman's styling potential.
LOOK ONE
This season we explored tonal dressing through the styling. This look demonstrates how to mix separates from the same palette of earthy tones; being brown, the boots are an extension of the neutral colour palette and ground the look. When hitting a smart/casual mark, the simple, streamlined shape of the boots makes them an easy choice for dressing up an outfit.
LOOK TWO
I love this look and can imagine it on my Dad, husband and also my younger brother. I've styled an oversized knit with chinos and co-ordinating Drover belt for a slightly more formal appeal, but it could also be styled with denim and a white crew neck tee for off-duty dressing. The quality and durability of the Craftsman allows for it to be worn every day, serving as a slightly smarter look than a sneaker or heavier boot.
LOOK THREE
For this tonal, navy look, I've paired the suit with a beautiful zip merino knit instead of a shirt, for a more elevated feel. A marine blue Craftsman and belt are the perfect accompaniment to the navy for evening, but could also be swapped out to a chestnut leather for daytime dressing. The boots work so well for formal occasions, however when pairing them with a suit, I'd recommend swapping an everyday belt out for a more slimline style.
Look One & Two: showcases the mid-brown Comfort Craftsman in pull-up leather.
Look Three: is the marine blue Comfort Craftsman.