THe Lady Yearling Boot
LADY OF SUBSTANCE: OUR MOST LOVED WOMEN'S BOOT
A classic Chelsea boot style – sleek but unfussy – the Lady Yearling boots are for getting things done and looking good while you're at it. Fashion writer Annie Brown tells their design story.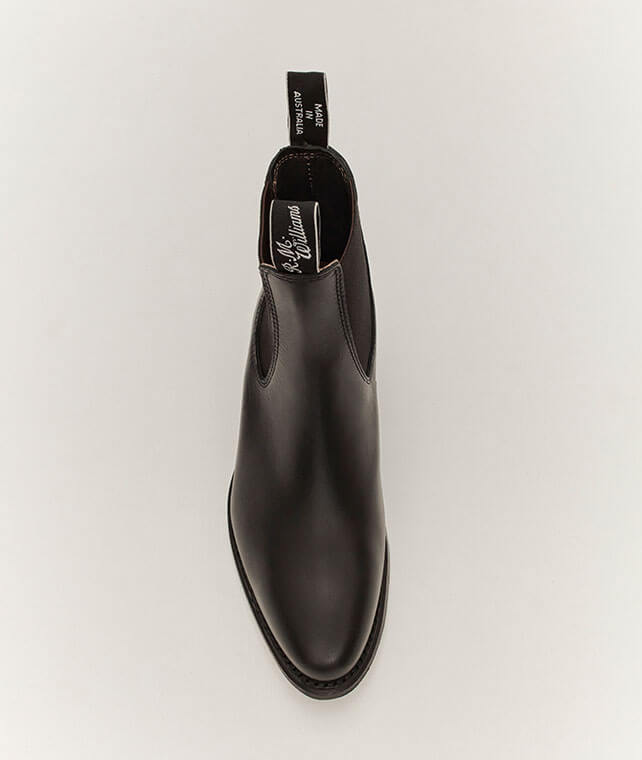 It is a fashion truism that the more versatile a wardrobe item is, the more desirable it becomes. This is as applicable to a crisp white shirt as it is a pair of perfectly fitting blue jeans. But it is particularly true when it comes to a pair of ankle boots that you could wear to a 9am marketing presentation, a 6pm cocktail in the city and for a weekend spent mucking out a stockyard.
And it's all in the styling. The Lady Yearling boots can anchor a floaty printed midi dress or toughen up a romantic puff sleeve dress in white or cream on warmer days. They'll balance out this season's hemline— the mini— with a T-shirt and tights. Meanwhile, pairing them with a boxy oversize blazer and slightly cropped jeans is the ultimate chic go-to for days when you have a wardrobe full of clothes, and nothing to wear.
David Cook, Head of Footwear and Accessories Development at R.M.Williams, says the versatility of the brand's Lady Yearling boot is its hallmark, and due in part to a sense of "rugged elegance."
"The boots are elegant. But certainly very Australian too … they're hard wearing and tough," he says.
The Lady Yearling was launched in 2016 after the brand, which this year celebrates its 90th anniversary, noticed women were buying smaller sizes of the men's Yearling boots.
"We wanted to make it a true ladies' boot," says Cook. Doing so included sizing the boot specifically to women's feet. It paid off.
"Now they're our highest selling ladies' boot, easily," says Cook.
Cook says part of the boot's appeal is that it suits women of all ages. Take the women in the R.M.Williams product team. According to Cook many of them wear the Lady Yearling boots, and they range in age from 20 something to 50 something.
"That's probably the appeal as well," he says.
"Depending on the configuration of leathers and colours, it appeals to quite a broad customer base. It's very versatile. In part I think because it's mid-height and can be worn with skirts, dresses, jeans— it really doesn't matter. It has an almond toe, a roundish toe shape, making it refined and it can be worn with anything, from formal looks to something very casual," says Cook.
Cook is right. A classic Chelsea boot style—sleek but unfussy— the Lady Yearling boots are for getting things done in. For one thing, the 4.5cm block heel and rubber sole means the boots can comfortably be worn all day (and night). The boot is always available in glossy black and chestnut but seasonal collections have also rendered the style in suede, metallics, crackle-effect and burnished high polish finishes.
Like all R.M.Williams boots, these are crafted from one single piece of polished leather in the Adelaide workshop and around 80 sets of hands touch each pair throughout the process.
Ultimately, as Cook points out, these are boots made for wearing season in, season out. Timelessness, usefulness and a sense of rugged elegance never go out of style.