STUDIO IN THE DUST
A PLEIN-AIR PAINTER FROM NORTHERN NSW IS BEING RECOGNISED FOR HER INTERPRETATION OF THE AUSTRALIAN LANDSCAPE.
STORY: THERESE HALL
A decade ago, Lismore contemporary artist Emily Imeson was stacking shelves in a Sydney pharmacy. Within a year, the 18-year-old was on the phone to her father asking his advice on a career path. "I was a bit lost," she says.
Her dad, Jeff Imeson – a retired country police officer – suggested that she study art. Emily recalls that fatherly advice fondly. "My dad is the reason I studied art," she says. "He and Mum have been so supportive."
These days, when Emily visits Sydney it's to host annual solo exhibitions at Saint Cloche gallery in Paddington. She spends the rest of her time travelling around Australia in her Toyota troopy, painting 'en plein-air' in the remote locations that inspire her.
Emily's journey from directionless teen to emerging contemporary painter took in a Visual Arts diploma (Southbank Institute of Technology, Brisbane) and a Visual Arts degree (Southern Cross University, Lismore). In 2016, with her formal training behind her, she committed to becoming a full-time painter. "I've been lucky to know what I want to spend my time doing," she says. "Having direction is quite fantastic."
Since then, Emily has steadily built her career, winning awards and scholarships, and holding regular solo shows. In 2019, she won the Macquarie Group Emerging Art Prize, and in 2020 she was selected by artist Lucy Culliton as one of five recipients of the 2020 Brett Whiteley Travelling Art Scholarship. "Emily nailed the outback landscape," Lucy says. "She has good use of colour and form, and she's imaginative."
In her art practice, Emily explores the connection between people and the natural environment. "My practice is very much about being immersed in the landscape and how that impacts the human psyche," she says. "My work is fuelled by recollections, sustained by emotions and abstracted through processes of remembering."
Emily has spent most of the past three years traversing the continent by 4WD, camping under the stars with her partner Kieran Rangger. Prior to the onset of COVID restrictions, they completed a lap around the country. "Travel has been a formative experience for me, and it's helped create my identity as an artist," she says.
As soon as the borders reopened, Emily travelled to Central Australia for a six-week painting sojourn, which gave rise to the exhibition, 'Ancient River, River Red', a sellout show at Saint Cloche in January. "It was an intense experience for me because the power of those areas is alive," Emily says. "[Central Australia] is an old place and there is an energy in the wind, the earth and the trees."
Emily's favourite landscape is Ruby Gap in the East MacDonnell Ranges, NT. "It is a really special place – the energy is uplifting," she says. "We were there towards the end of our Central Australia trip, and I finally started to understand the landscape."
According to Saint Cloche gallery owner Kitty Clark, Emily is like a poet. "She expresses herself with an unusual delicacy using a limited palette," Kitty says. "I was drawn to her palette – it has really authentic, warm Australian hues."
Kitty is also impressed by Emily's commitment to her art practice. "It's unusual for a young artist to forgo all the nice things to live minimally and connect with the land."
Emily grew up in the NSW towns of Orange, Tamworth and Lismore following her father's police force postings. Every school holiday, her family would head to her grandparent's cattle property in Casino, NSW, where Emily "found contentment being among the trees". In Lismore, where Emily spent her teenage years, her father took her horseriding through the bush. "Those experiences are probably my fondest memories," she says. "Moving through the landscape and learning about the animals and the flora."
Describing herself as a "human who loves being outside connected to nature", Emily has been drawn to plein-air art practice. "Being in nature provides me with so much solace," she says. "It gives me a desire to make marks, a desire to document and analyse the wonderful things I experience.
During her extensive travels, Emily has gone without a studio, working in camp sites, where her canvases are often supported by tree branches rather than easels. "It's been a great challenge making art works without the safety of a room," Emily says. "It makes you think differently."
Emily's next solo exhibition will be held at the Edwina Corlette Gallery, in Brisbane, in August 2021.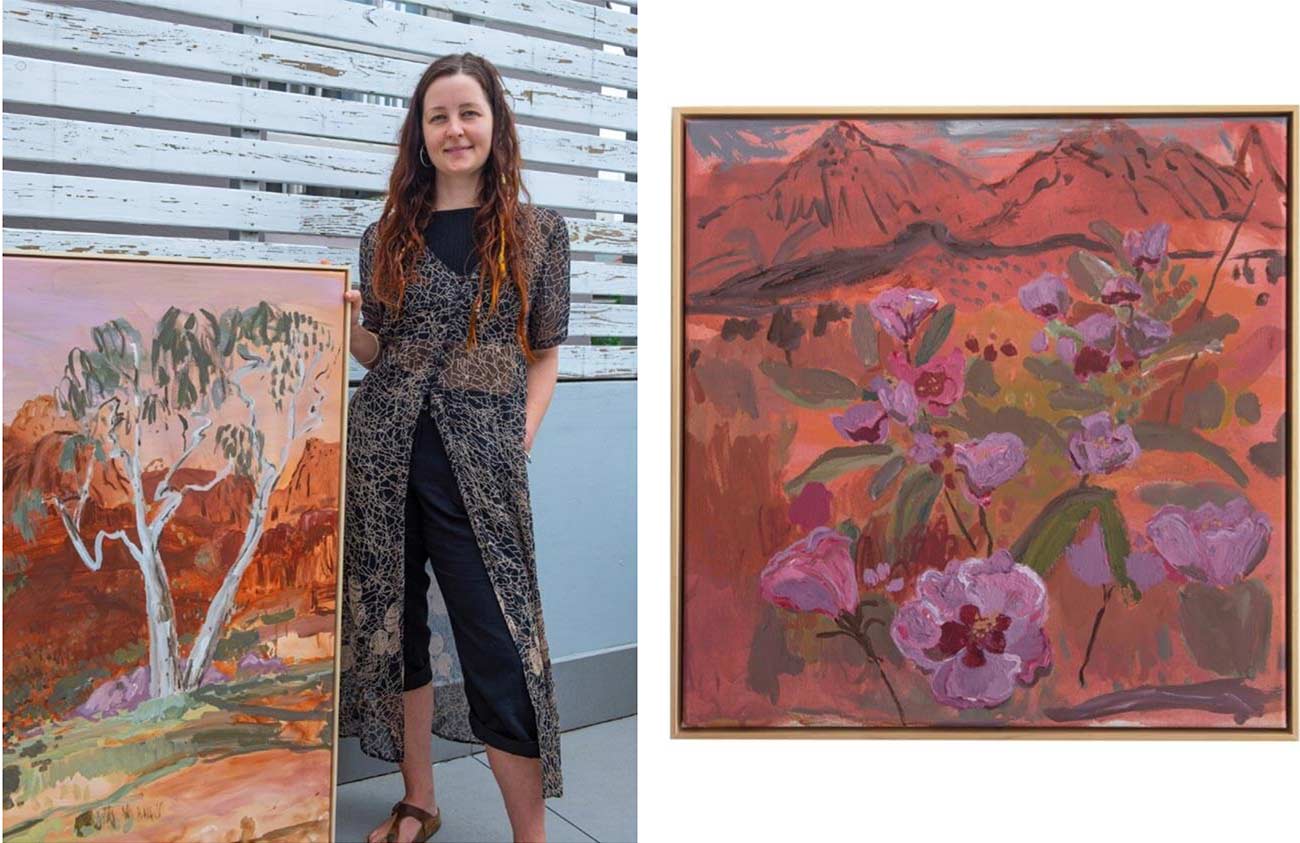 CLOCKWISE FROM TOP: Emily Imeson paints at Ruby Gap, NT; Desert Rose on Desert Rain; Emily prepares to hang Dusk Range for her Sydney exhibition 'Ancient River, River Red'.
This story is from Outback Magazine: Apr/May 2021 Issue #136
GET A TASTE OF OUTBACK LIFE
We have handpicked a selection of articles that will immerse you in real Australian people, places, animals and issues. Come back regularly as we will be adding new articles fortnightly. Or, alternatively you can subscribe to have it delivered directly to you.