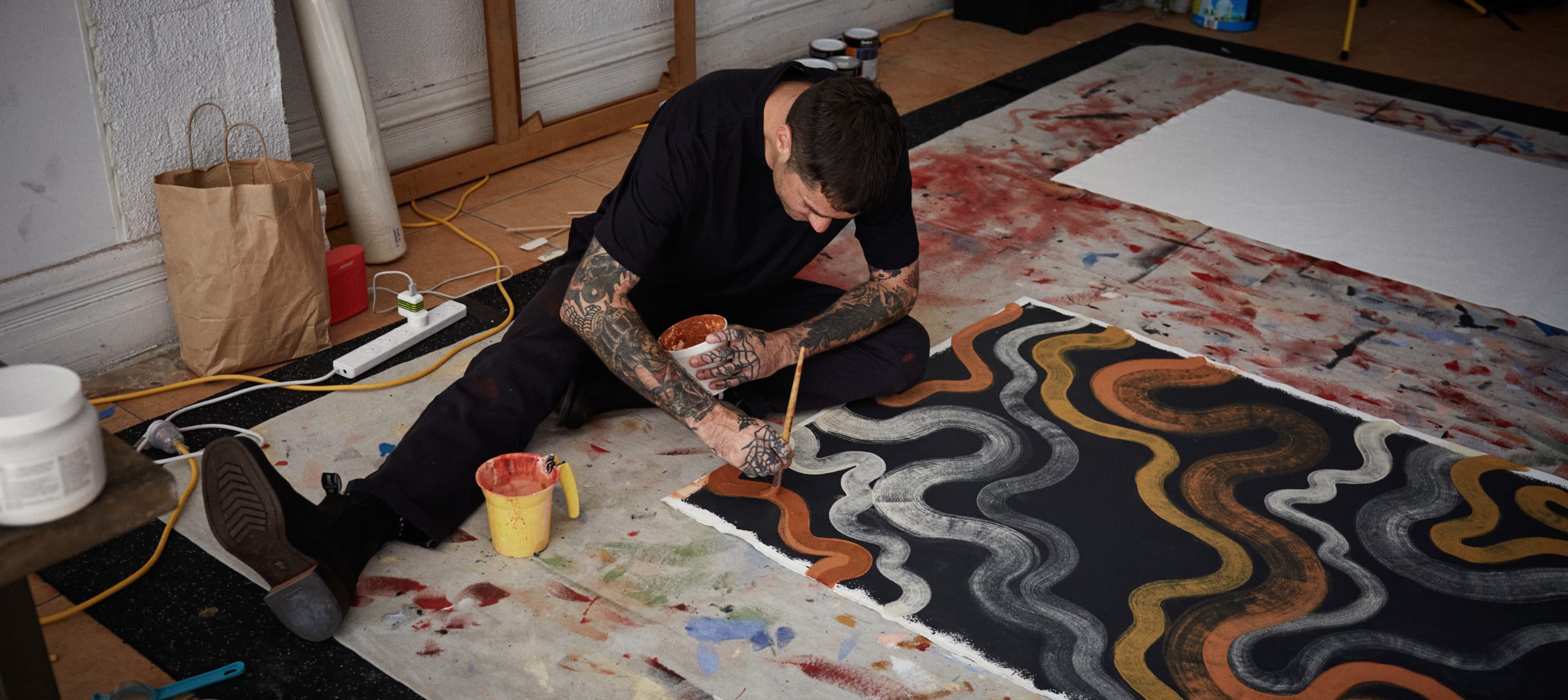 The Arnhem Boot
In The Studio With Shaun Daniel Allen
A younger, more rugged expression of the classic chisel toe boot has landed. With its spring toe, heavy treaded rubber sole and mid-height block heel, the R.M.Williams Arnhem boot has a more robust silhouette, well suited to industrial environments. Here, photographer and writer Ella O'Keeffe speaks with artist Shaun Daniel Allen on how the tough-looking boot treads lightly between country, fine art studio, and tattoo shop.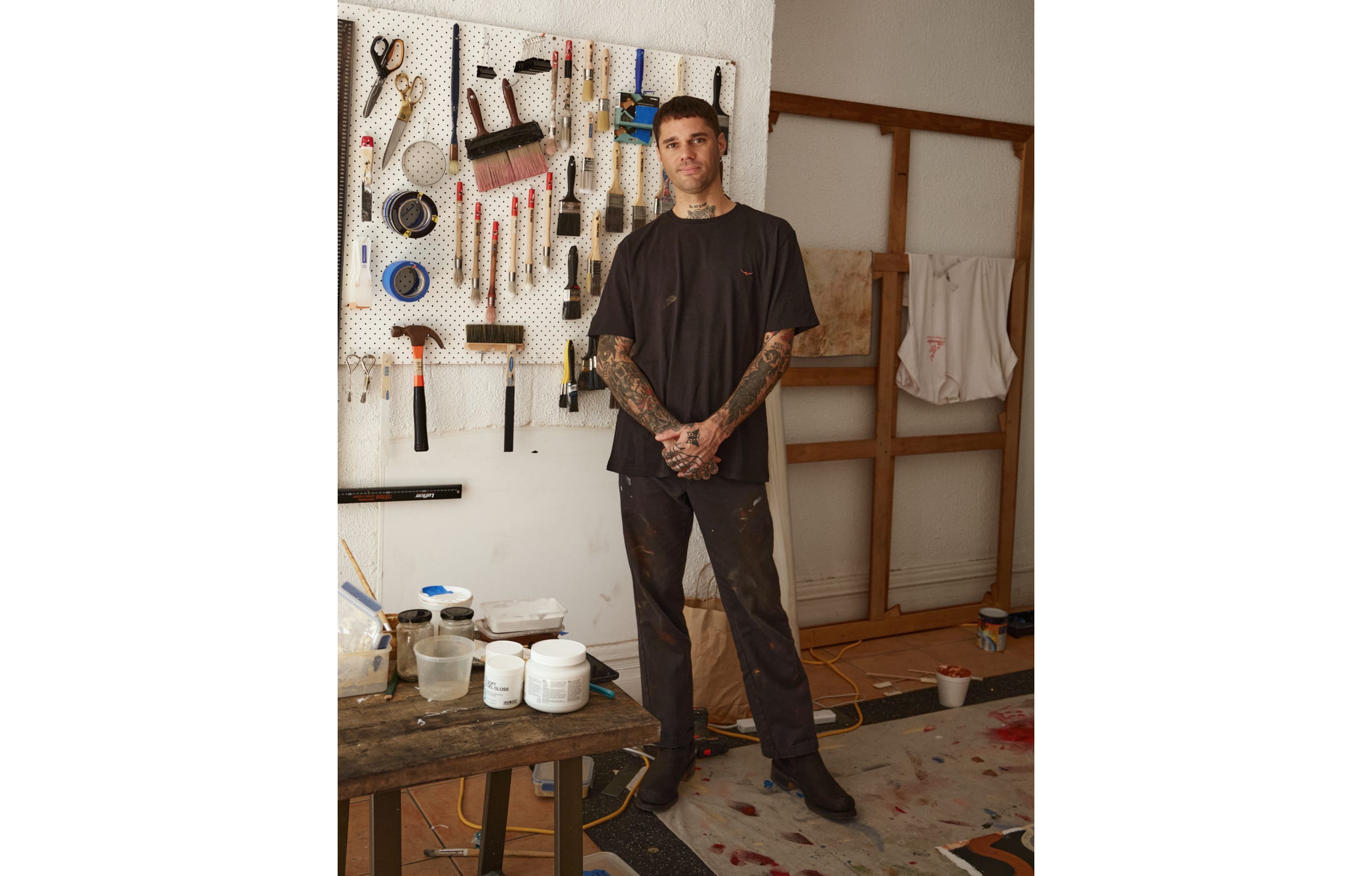 Upon first meeting Shaun Daniel Allen, the Yugambeh born Bundjalung painter and tattoo artist's warmth almost catches you off guard. For someone with so much talent, only openness and curiosity stand in the place of ego. We meet on a Friday morning, sun streams into Allen's Oxford Street studio, transporting the space into a light-filled refuge above the busy street. He is wearing what he says he's most comfortable in: a plain black t-shirt and paint-spattered jeans with his R.M.Williams Arnhem boots on foot – a pair that he describes as "a very no fuss boot that I can just pull on in the morning and get out the door", which is what it's all about for the artist whose practice is so tactile.
Almost immediately, Allen gets to work grinding ochre for a piece he is working on, laid out across the floor. He is not here to turn his work into a photoshoot, he is here to let us into his practice.
As he works, there is a meditative quality to his method, moving between grinding and mixing ochre – an element he is working with a lot at the moment – and painting sweeping lines that snake over the canvas like water. Within his practice, which, these days, mostly oscillates between working in his studio and tattooing down the road at Thanks Tattoo, his country and his surroundings remain a focal point of inspiration.
Here, Allen touches on his practice and the way he works with elements of the land, his most recent show, Balun, and how when it comes to style, tactility, ease and comfort are front-of-mind.


"The Arnhem boot is hardwearing and functional. Two of the most important things I gravitate toward when it comes to purchasing anything new. It's also very diverse when it comes to styling."

Tell us about your work as an artist…
I would say my work is meditative, intentional mark making, drawing heavy inspiration from country and my surroundings.

What does your creative process look like?
Lately I've been painting a lot with ochre and looking to use natural materials a lot more in my practice. Currently my process involves quite a lot. I go for a walk to certain spots on my country, or country I am tied to and have permission from Traditional Owners to collect the ochre. I get the ochre back to my studio, sort it by colour and begin breaking it up. I usually don't mix these up until I'm about to paint, and I find lately when I begin a painting, I need to be in the right mindset to do so.
I tend to put all my initial lines down and bounce between a few paintings I will have on the go at the time. It helps me continually come back to a painting with fresh eyes and really immerse myself in my work whilst at the studio.
Tell me about how the process of getting dressed intersects with your practice…
My biggest priority is functionality and comfort. I tend to get pretty messy with my work in the studios I work between, both tattooing and painting. Lots of black and worn-in clothes.
I think I'm still wearing a lot of the clothes I was wearing when I was a teenager. If it ain't broke, don't fix it.
I'm a big fan of boots that I can just slip on. Moving to the city, and walking a lot more in all weather, I do really look for footwear that can deal with the rain too. The Arnhem boot has fitted in perfectly. It's a very no fuss boot that I can just pull on in the morning and get out the door. I don't feel like I'm careful with any of my clothes or shoes, and these boots are no exception.

And how does the Arnhem boot suit your work and life?
Hardwearing and functional. Two of the most important things I gravitate toward when it comes to purchasing anything new.
The Arnhem boot is very diverse when it comes to styling. I'll wear them with baggy, comfortable paint covered pants for day to day wear; or a simple, plain t-shirt tucked into some nice jeans. These boots pair with each option well. They can be dressed up, or dressed down.

Your latest show Balun, translating directly to river in Yugambeh dialect, was centred around water. How does your connection to water, the coast and the land inspire your work?
After a tough year prior to that show, I was searching for some sort of quiet. Being in and around the water was my go-to for as long as I could remember when it came to feeling at ease. It washes everything away. It was only natural that when I started painting, and feeling those same kinds of feelings from that practice, that I would gravitate toward looking for inspiration and connecting the two.
I feel very lucky to have grown up in a coastal town around the rivers and the ocean. Seeing how the land speaks to the water and appreciating how they talk to each other. Watching sand dunes rise and fall. Flora blossoms and withers with the seasons. Frequenting the same spots daily and really feeling at home. It all has a direct impact on how I see the world, and in turn how I want to show and speak about what I'm seeing within different mediums of my work.