The Arnhem
Tough Silhouette And Well Worn Appeal From First Wear
R.M.Williams' answer to the call of street culture, the Arnhem Boot is a rugged Australian take on a versatile urban boot. Its heavy treaded rubber sole and spring toe add durability and character to a familiar silhouette. It looks bloody tough, and it is.
The Arnhem's heavier wide chisel toe and mid-height block heel provide a solid footing for a fashion-forward younger set in cities near and far, but the boot will always stay grounded to its roots, and the iconic landscape it's named after. R.M.Williams' Head of Footwear Development, David Cook, describes the Arnhem as a bigger and bolder version of the iconic Craftsman.
"We wanted to build on the success of our classic chisel toe shape on the Craftsman but give it a younger, more heavy-duty and aggressive profile, very much in keeping with the urban streetwear look,"
David explains. "The Arnhem still looks like our RMs, but it's a step into more diverse terrain."
Still purposefully designed from a single piece of leather and handcrafted with the centuries-old tradition of sewn Goodyear welt construction, the Arnhem's heavy treaded rubber sole and spring toe add durability and rugged character to a familiar silhouette.
"As boots get older, the toe tends to curl up a bit and that's a feature that definitely appeals to our fashion-forward customers, so we've lifted the toe to give the Arnhem boot that well-worn appeal from the first wear," David says. "All the hard yards are done – they're already broken in, and they will continue to age well."
The fully-lined black nubuck leather upper adds additional layers of character, and will take on its own personality as the adventures unfold. Oiled and finely buffed in R.M.Williams' Adelaide workshop by highly skilled artisans, the leather is harder-wearing than traditional suede and has high water resistance.
Fashion stylist, Gemma Keil, describes the new Arnhem as synonymous with street culture. "The Arnhem's blocky, bold silhouette, can be effortlessly paired back with a wide range of looks, but it's particularly suited to a confident, masculine wardrobe curated with quality staples," she says. "The Arnhem's tactile velvety black finish teams perfectly with darker selvedge denim or chinos in structured or wider fits, paired back with a chunky winter knit, or a basic white t-shirt and jacket."
From the R.M.Williams collection, consider teaming it with the Classic Rider Jacket, Heritage Shearling Overcoat, or the leather Collinsville or Colton jacket. "The look is confident and bold, but it's also relaxed and rugged," Gemma says.
HOW DO YOU WEAR YOURS?
The stories behind the different styles of our boots, and the lifestyles they lend themselves to.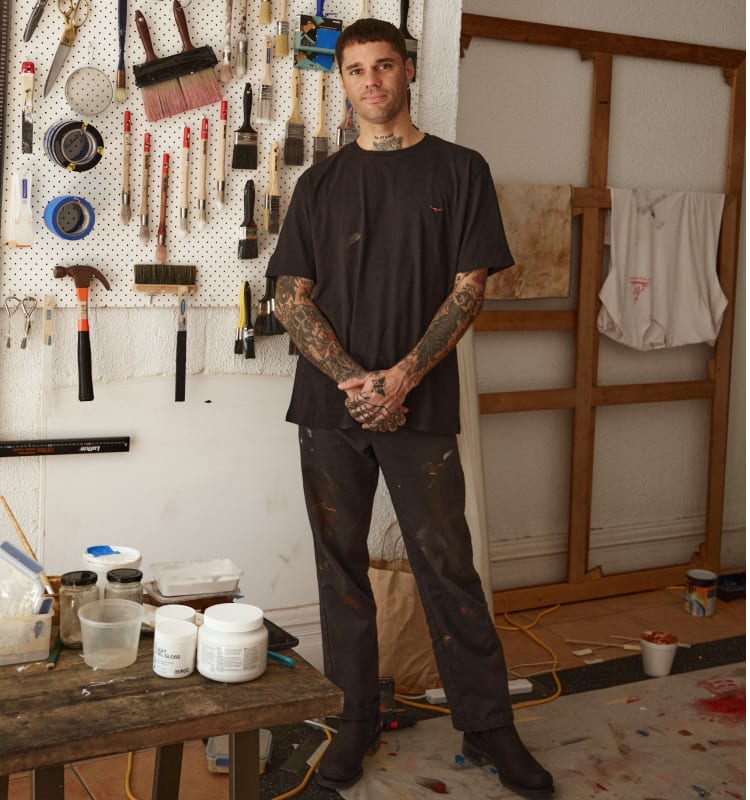 In The Studio With Shaun Daniel Allen
Photographer and writer Ella O'Keeffe speaks with artist Shaun Daniel Allen on how the tough-looking Arnhem treads lightly between country, fine art studio, and tattoo shop.