YOU CAN WIN A CABIN ON THE GHAN
Spend $250 online or in-store and be signed up to receive our marketing emails to automatically be entered into the draw to win a trip on The Ghan for 3 days and 2 nights. Travel from Adelaide to Darwin and soak in the beautiful scenery Australia has to offer.
THE GHAN EXPEDITION
Enjoy a trip of a lifetime explore the wonders of Australia's vast interior with one of the world's most renowned rail journeys – The Ghan Expedition from Adelaide to Darwin.
Departing from Adelaide, this three day, two night, 2979km all-inclusive journey will take you to some of the most remote and captivating parts of Australia in style and comfort. Your adventure through the country's vast, varied landscape will leave you speechless. It's the ultimate Australian outback experience.
Travel coast to coast through the fiery red centre, cruise the Nitmiluk Gorge at Katherine and enjoy off train experiences at Alice Springs and Manguri all whilst enjoying the premium hospitality of The Ghan.
ARE YOU SUBSCRIBED TO OUR NEWSLETTER?
Sign up now to be the first to hear about new collections, exclusive offers and announcements. You must be subscribed to receive marketing material from R.M.Williams to be eligible to enter the competition.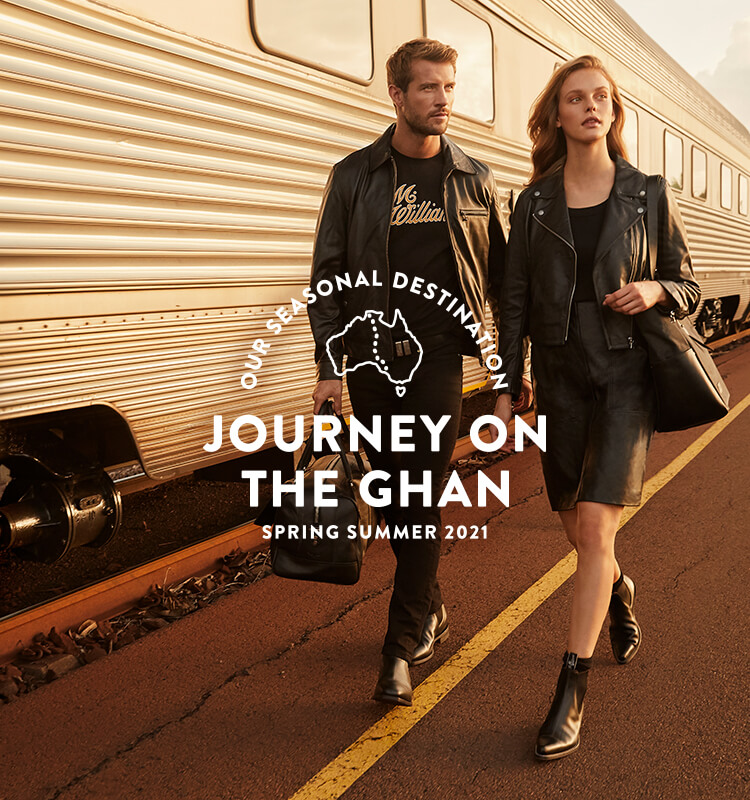 INTRODUCING SPRING SUMMER 2021 COLLECTION
Our Spring Summer 2021 seasonal range and destination 'Journey On The Ghan', represents a collection firmly rooted in our DNA and brand history. Grounded in the stockyards of Australia and born of an honest work ethic and heritage, the collection is 'designed with purpose', and unites with 'The Ghan', another Australian icon closely linked to the journeyman spirit of R.M.Williams and birthplace of the brand in Adelaide. Focused on the reinvention of classic styles, the latest collection of boots, bags, sneakers and ready-to-wear are showcased against a backdrop of train travel crossing Australia's centre, with rugged to elegant pieces ready to take the modern adventurer from scenic gorges to luxury onboard dining, addressing needs for all types of moments of the journey.
GO IN-STORE FOR AN EXPERT FITTING
Come in-store and soak up the R.M.Williams experience. The collection is created from the boots-up, displaying purposeful designs for the adventurer, exploring the outback terrain and journeying through to the city. Our store staff are expertly trained to fit you to the perfect boot whether it's your second pair or you are new to the brand.
SIGN UP TO Journey Beyond and Journey Beyond Rail Expeditions NEWSLETTERS
Sign up below to receive e-newsletters featuring the latest news and exclusive offers and much more from Journey Beyond and Journey Beyond Rail Expeditions.