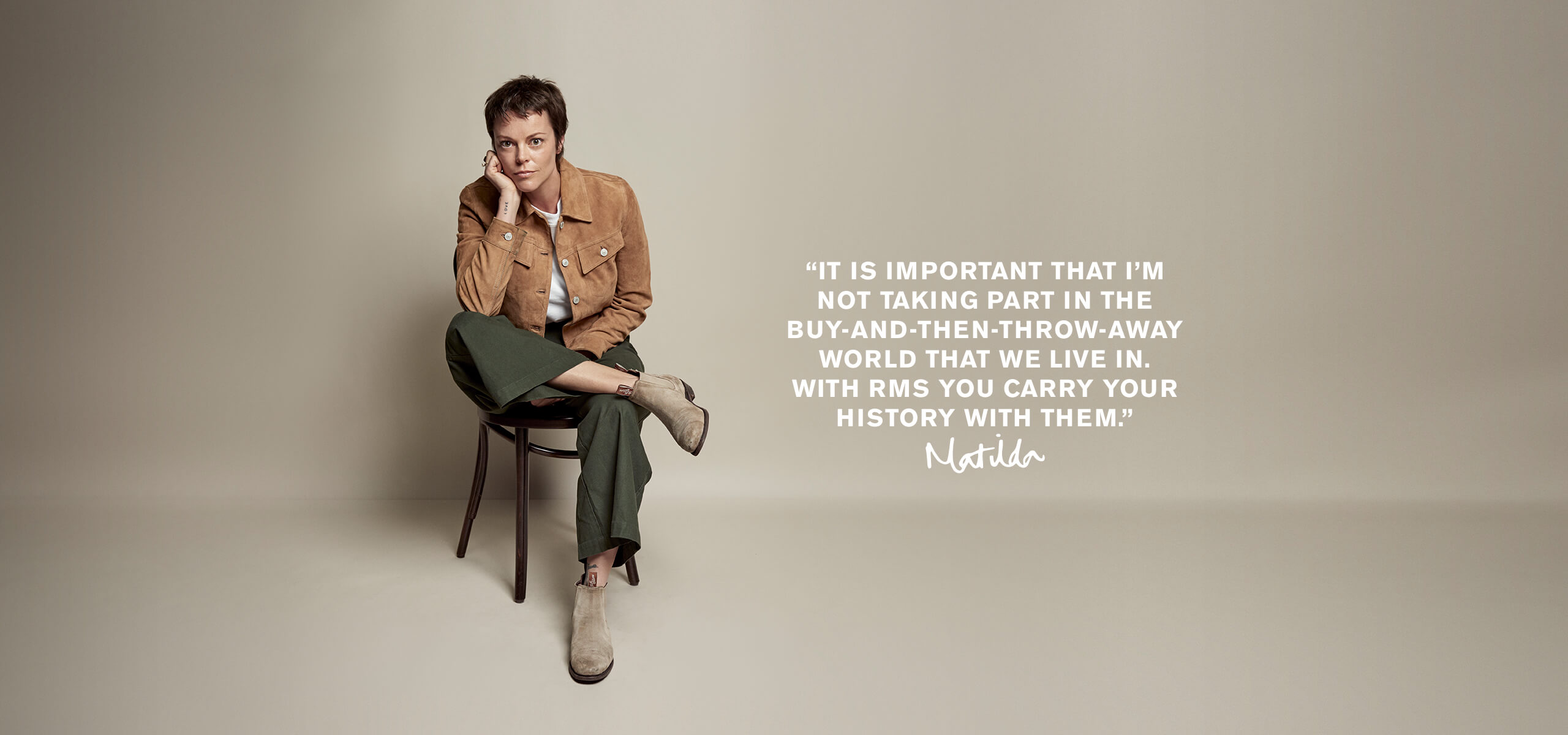 'Sustainability is so important'
"I was lucky, I got my first pair of RM boots from my husband – when he wasn't my husband – for my birthday about three years ago. I was just about to go and shoot a Tourism Tasmania commercial and I was in love with them. I just gallivanted around Tassie in my new boots... They were a lot cleaner then!
I'm a very on-the-go, low-maintenance type of girl, so I don't wear high heels. I like flats. I like really comfortable shoes and I like shoes that last a long time and that become lived in and like a second skin.
The thing that I love about RMs is that they're very easy boots to wear every day, so whether I'm on set, or going for a walk, or walking around in the house, feeding my kid, running off to my kid...they're just very versatile, comfortable boots.
They have a few scuffs on them now. It's really hard to say at this point what scuff is what scuff, because I wear them so much there are lots of scuffs. I don't know where my scuffs have come from, but I love my scuffs.
I grew up watching my dad wear his RMs and one of the best things about RMs is that in this strange way, the boots just become who you are, so you kind of carry this history on them. They get these great grooves in them after a lot of wear and they wear so well with age. Mine have been everywhere with me. They've been to my farm, they've been in the water, they've been overseas.
I did make the mistake of wearing the heel down, which you shouldn't do, but the great thing about the Boot Repair & Care Service is that you can go to the shop to have them fixed, but then you get given back a brand new boot, but with all that beautiful history in them still. I love that there's that service.
Also, ethically, I don't feel good about buying leather shoes every year or six months. I think now more than ever with this fast-fashion age that we're living in, people are becoming more and more aware of how important it is to purchase items that can last a long time. Tome, it is important that I'm not taking part in the buy-and-then-throw-away world that we live in. I think they should last a long time, so it is a really good service to have and sustainability wise it's great.
My husband Scott and I are talking about going to Italy when we're able to... for some reason, cobblestones came into our head the other day and we were like, 'Aren't those little streets in Europe just beautiful?' And I'm sure my RMs will be coming with me.
Someone recently told me that they got RMs for their [third] wedding anniversary and I was like, 'Great, in a couple of years I'll get a new pair of RMs!'"
Made by Hand. Repaired by Hand. Worn by You.
You can tell a lot about a person by the state of their boots. Some of our customers bought their first pair of RM's over half a century ago and still wear them till this day. In fact, some would argue, as did RM himself, that the worst their boots looked, was the day they bought them. With every wear, your pair is branded with personality. Even the smallest scuff has a story worth telling.
Your RM's will need the occasional service and that's where our Boot Repair Room steps in. It takes time to make something special, which is why it's worth keeping your RM's in top-notch condition and investing in a little care and attention. Whether it be resoling your boots, fixing your stitches, or replacing the iconic tugs and elastic, our Boot Repair Room is equipped to bring your RM's back to health and you back on your feet. Consider them good as new, but with that old boot feeling.
Learn about boot repairs
order a boot repair online
Caring for your suede leather boots
Every leather upper in every boot was originally a living, breathing skin and as a result, needs to be maintained like one. Treat it well, condition it and give it the occasional polish and it will not only last longer, but will survive whatever you throw at it.
PROTECTING SUEDE OR NUBUCK LEATHERS
Prior to wear, spray R.M.Williams Suede Protector in one direction, onto clean footwear at a distance of 20cm and allow to fully dry. Spraying in the opposite direction, repeat this process for a total of 3 times for best results. This will help repel water and protects against stains that occur with regular wear.
CLEANING SUEDE OR NUBUCK LEATHERS
For suede or nubuck leathers, R.M.Williams Suede Cleaner should be used Spray onto a clean cloth or sponge and work cleaner in a circular motion to surface of boot. Leave to dry naturally and brush up nap when dry.
LEarn MORE about boot care
Shop leather care products
Shop Matilda's boot style