'I've been wearing my RMs for 69 years!'
"My name is Margaret Mason. How long have I been wearing my RM boots? Since I was 12, that's not last week... I was born in 1939, so you can work that out yourself!
My dad had been in the Australian Light Horse and when he came back from service, he was very quick to get me on a pony, so I've been into horses from the age of five and by the time I was 12, in 1951, I was riding in the Royal Easter Show on my horse, Trixie.
Oh my goodness, I'll never forget that first ride in the show. My dad and I slept above the horses the night before and I didn't sleep at all – you heard everything going on underneath, but in the morning I rode Trixie in the show. And as always, I had my R.M.Williams boots on.
I was one of the original members of The Pony Club when it started in Australia and R.M.Williams were very special to us then. And at every event you would see R.M.Williams boots everywhere and I have been wearing them ever since my early riding days. They were always comfortable and safe. They'd slip out of the stirrups easily and they were always so easy to wear. I didn't envy anyone's footwear, because I had my RMs.
In total, I own three pairs of RM boots, but the ones I'm wearing today are the ones that mum and dad bought me when I was 12, so that's how long I've been wearing them. My father used to take my boots to an R.M.Williams shop to have them repaired, but generally this was only ever for resoling. I've never needed the elastics or tugs changing.
I remember R.M.Williams taking charge of my wedding day... I was down in the paddock an hour before my wedding, riding my horse because the thought of leaving the country to live in Sydney was horrifying to me, and my dad drove down there in the car and said, 'Mum and I are going to a wedding, have you got any plans for the afternoon?' And that was that.
After my husband and I married, the RMs went with us everywhere as we travelled a fair bit. We climbed the highest points at Warrumbungle Mountains and we went to England, for example, and the RMs went with us, so they've been fairly well travelled and hard-worked. They've stood up to the care they've copped, that's all I can say, but my husband has had his for years and he still wears them today. They've been going everywhere with us and I couldn't think of a reason to not recommend them."
Made by Hand. Repaired by Hand. Worn by You.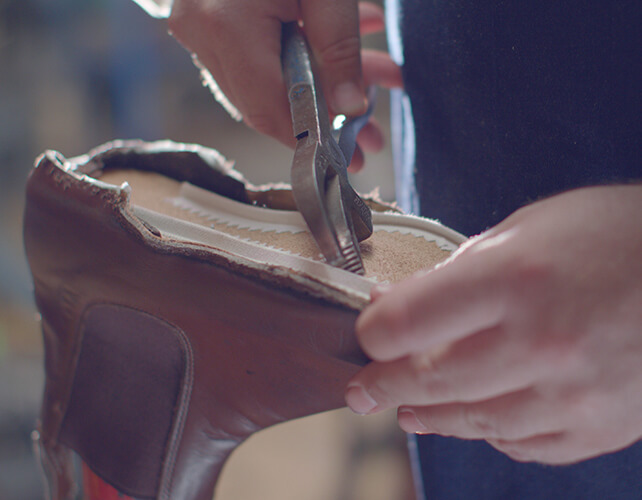 You can tell a lot about a person by the state of their boots. Some of our customers bought their first pair of RM's over half a century ago and still wear them till this day. In fact, some would argue, as did RM himself, that the worst their boots looked, was the day they bought them. With every wear, your pair is branded with personality. Even the smallest scuff has a story worth telling.
Your RM's will need the occasional service and that's where our Boot Repair Room steps in. It takes time to make something special, which is why it's worth keeping your RM's in top-notch condition and investing in a little care and attention. Whether it be resoling your boots, fixing your stitches, or replacing the iconic tugs and elastic, our Boot Repair Room is equipped to bring your RM's back to health and you back on your feet. Consider them good as new, but with that old boot feeling.
Learn about boot repairs
order a boot repair online
CLEANING, CONDITIONING & POLISHING FINISHED LEATHERS
CLEANING FINISHED LEATHERS
Apply R.M.Williams Leather Cleaner directly and evenly onto the leather. Rub cleaner evenly over surface with a damp cloth until clean. Remove any excess cleaner with a dry clean cloth.
CONDITIONING FINISHED LEATHERS
Apply R.M.Williams Leather Conditioner evenly to finished leathers with a clean cloth or hands. Allow the conditioner to penetrate before buffing off excess to a soft sheen. R.M.Williams Leather Condition should be applied regularly to finished leather footwear (every six weeks in humid conditions or as the leather becomes dry) to maintain and preserve the leather. Be careful not to over condition. For finished uppers this has the added benefit of reducing harmful polish build-up.
POLISHING FINISHED LEATHERS
Apply R.M.Williams Stockman's Boot Polish to finished leathers with a clean cloth and rub in well. Buff briskly with a buffing cloth to obtain a high shine. For boots which are badly scuffed, optimum results will be achieved if the polish is left on the uppers overnight. This will ensure the pigment is absorbed into the leather. Buff briskly with a shoe shine brush and finish with a buffing cloth to obtain a high shine.
LEarn MORE about boot care
Shop leather care products
Shop Margaret's boot style