'My boots have been all over the world; they've done a lot of shutter clicks'
"I was actually working for R.M.Williams on the campaign photography and video for the Boot Repair & Care Campaign and we were finished for the day, at least I thought we were finished, but now I've been roped into being part of the campaign to talk about my boots, because I actually do happen to wear R.M.Williams boots.
And the pair I'm wearing today are my second-oldest pair and they've seen better days, but fortunately R.M.Williams does fix and repair boots through their Boot Repair & Care Service, which is lucky for me.
This pair has got all sorts of marks on them from my many travels because I wear them so much, but they're also covered in paint, because I've been painting in them recently. I'm hoping that I'll get another newer pair soon.
I'm not actually originally from Australia. I'm from New Zealand. So in New Zealand, we didn't wear R.M.Williams boots... It'd be like wearing a Wallabies jumper, but since I moved to Australia I've been wearing them for many years now. In fact, I found a photograph of myself the other day in London in the eighties, and I was wearing my other pair of R.M.Williams boots, my oldest pair, although at that point they would have been quite new. So yes, those ones are 40 years old. They've actually lasted pretty well.
My boots have done a lot of miles. I've had them for years. They've been all over the place. I wear them everywhere actually. I wear them overseas and I've worn them all over Australia.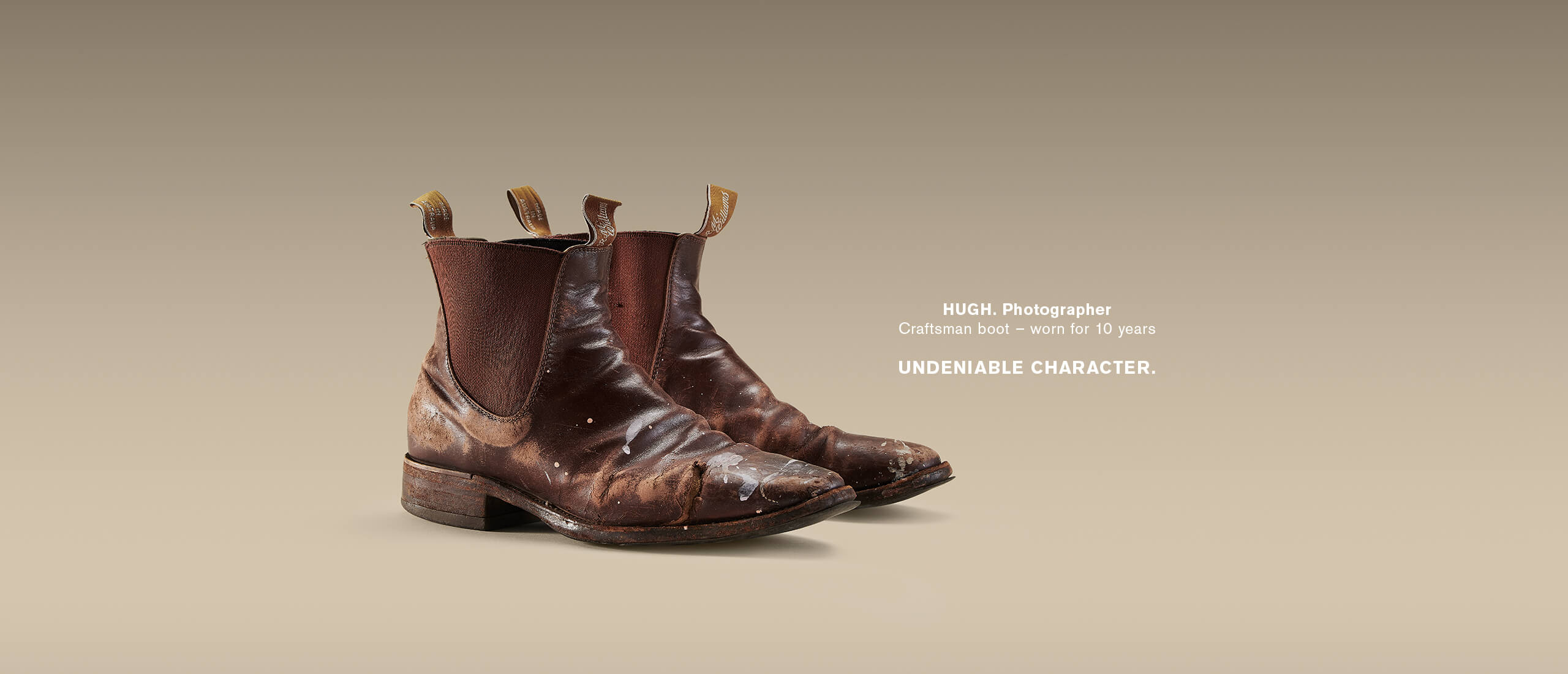 When you sell a camera, you have to look into the camera and you can see how many shutter clicks it's done. And whenever I sell old cameras of mine, they're never worth anything because the shuttered clicks are up in the millions. So, in the same language, in the same world, these boots would have done a lot of shutter clicks.
I just really like RM boots. They're easy to put on and they're so comfortable to wear – they're not really too much of a statement either, which I like."
Made by Hand. Repaired by Hand. Worn by You.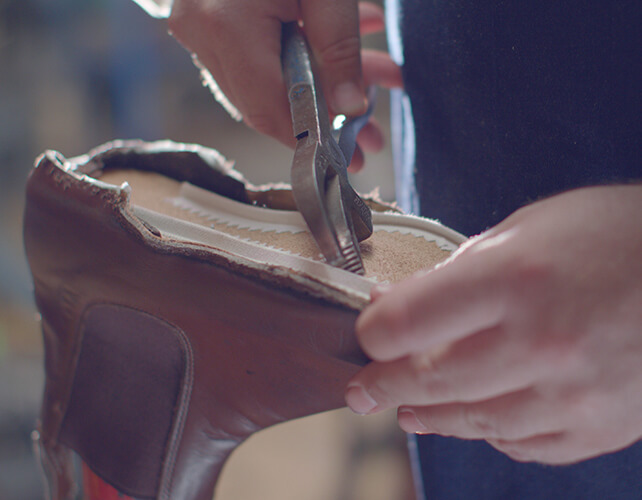 You can tell a lot about a person by the state of their boots. Some of our customers bought their first pair of RM's over half a century ago and still wear them till this day. In fact, some would argue, as did RM himself, that the worst their boots looked, was the day they bought them. With every wear, your pair is branded with personality. Even the smallest scuff has a story worth telling.
Your RM's will need the occasional service and that's where our Boot Repair Room steps in. It takes time to make something special, which is why it's worth keeping your RM's in top-notch condition and investing in a little care and attention. Whether it be resoling your boots, fixing your stitches, or replacing the iconic tugs and elastic, our Boot Repair Room is equipped to bring your RM's back to health and you back on your feet. Consider them good as new, but with that old boot feeling.
Learn about boot repairs
order a boot repair online
CLEANING, CONDITIONING & POLISHING FINISHED LEATHERS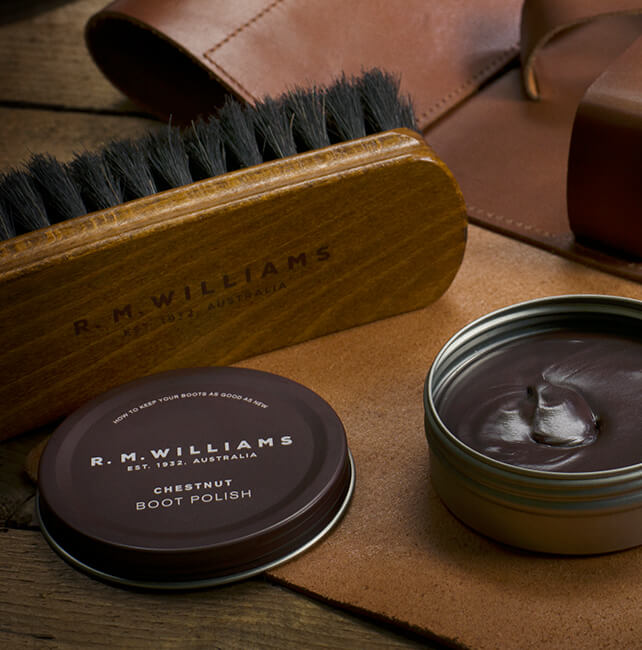 CLEANING FINISHED LEATHERS
Apply R.M.Williams Leather Cleaner directly and evenly onto the leather. Rub cleaner evenly over surface with a damp cloth until clean. Remove any excess cleaner with a dry clean cloth.
CONDITIONING FINISHED LEATHERS
Apply R.M.Williams Leather Conditioner evenly to finished leathers with a clean cloth or hands. Allow the conditioner to penetrate before buffing off excess to a soft sheen. R.M.Williams Leather Condition should be applied regularly to finished leather footwear (every six weeks in humid conditions or as the leather becomes dry) to maintain and preserve the leather. Be careful not to over condition. For finished uppers this has the added benefit of reducing harmful polish build-up.
POLISHING FINISHED LEATHERS
Apply R.M.Williams Stockman's Boot Polish to finished leathers with a clean cloth and rub in well. Buff briskly with a buffing cloth to obtain a high shine. For boots which are badly scuffed, optimum results will be achieved if the polish is left on the uppers overnight. This will ensure the pigment is absorbed into the leather. Buff briskly with a shoe shine brush and finish with a buffing cloth to obtain a high shine.
LEarn MORE about boot care
Shop leather care products