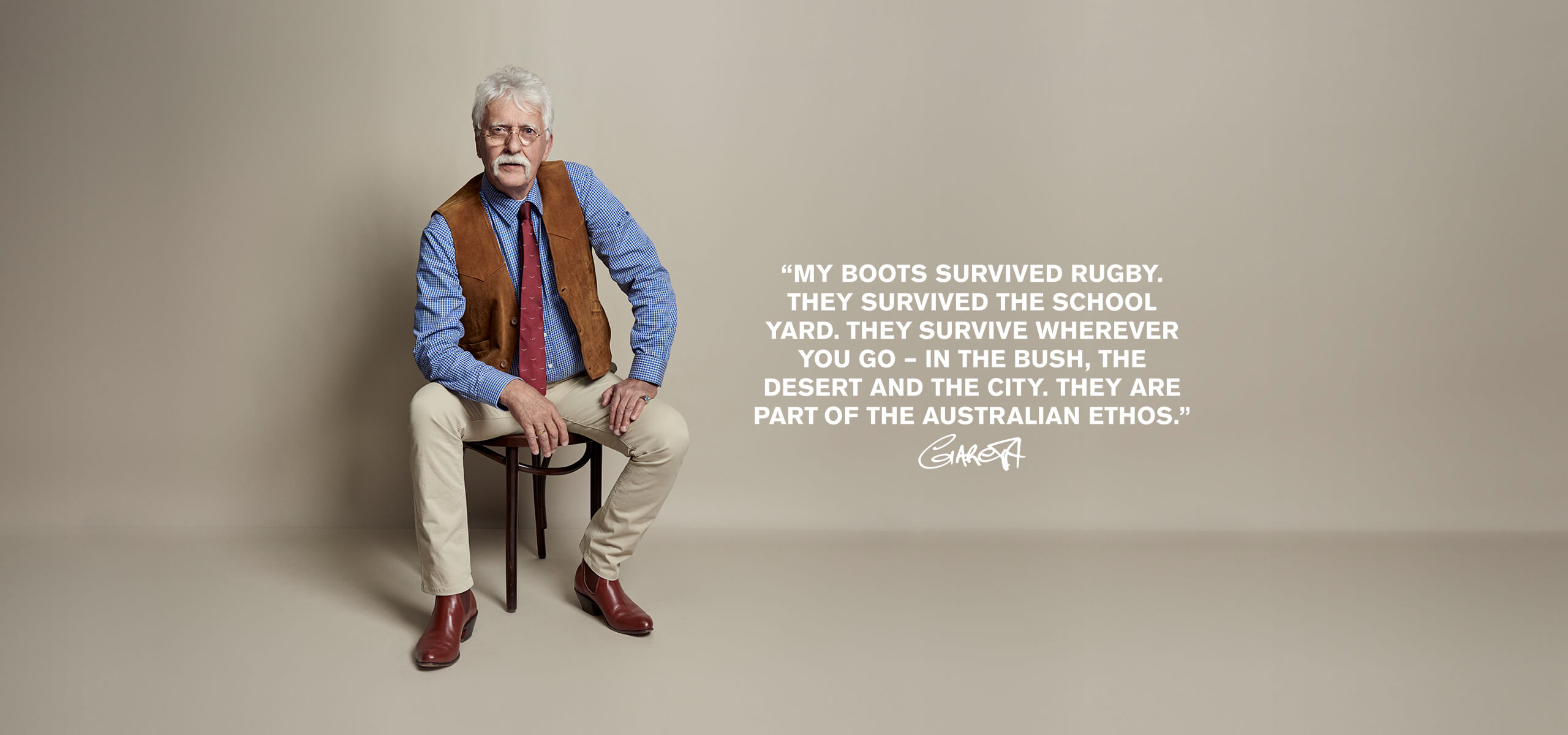 'I only wear R.M.Williams footwear – they're part of the Australian ethos'
"My association with R.M.Williams started back in 1961 with my very first pair of boots. And they came about because my grandfather, who was a leather maker himself, and Reg were actually friends and my grandfather insisted that I don't wear anything else, but RM. So that's all I own.
For my first year in high school, in 1961, my grandfather bought me a pair of boots that was supervised by RM, so when I played rugby, I insisted on wearing the boots. The boots survived rugby. They survived walking around the schoolyard. They survive wherever you go. In the bush, in the desert, in the city, they stand out and they are part of the Australian ethos. You can go anywhere with them. They are the most amazing set of footwear that I can imagine.
I still have that first pair. They don't fit anymore sadly, but they're part of my collection. And this is going to sound terribly facetious, but I now have 40 pairs of RMs. I don't own another pair of footwear!
There's no particular style I like, because with 40 I've been able to buy all the different styles. My very favourite pair were bought two years ago and they are crocodile and were made specifically for me and I just love them. Everywhere I wear them, people always say, 'Where did you get those? We want them.' But you can't because that was it – they only made a couple of pairs.
One of the places my RMs have journeyed with me was when I took listeners from the radio station I worked at on a three-week tour across Europe. I wore them everywhere – in Berlin, in Athens, in Rome and in Turkey, and it never ceased to amaze me the number of people who came up to me and said, 'Where did you get those?' To which I was very proudly able to say, 'They are only made in Australia.'
I once purchased a pair of Craftsman boots that were half a size too big for me. I just loved them and had to have them, and they were the only size they had. A little while later I was back in the same store and a new manager said to me, 'You can get those boots resized.' I said, 'What?' So off they went to Adelaide and they were sent back resized, resoled, redone and it's the best investment I ever made.
There's so much that I love about R.M.Williams. Firstly, they're Australian made, but Reg's story itself shows what can be achieved if you focus on quality and only quality, not quantity, then you are going to make a product that lasts forever and the RM product does last forever. Whether it's clothes or whether it's boots, it speaks quality with a capital Q.
I'm not quite sure what the future holds. All I know is they will always be part of my lifestyle, whether it be at work, whether it be at pleasure, whether it be hiking, whether it be camping or going overseas, they will always be with me because they define me as a person, as an Australian."
Made by Hand. Repaired by Hand. Worn by You.
You can tell a lot about a person by the state of their boots. Some of our customers bought their first pair of RM's over half a century ago and still wear them till this day. In fact, some would argue, as did RM himself, that the worst their boots looked, was the day they bought them. With every wear, your pair is branded with personality. Even the smallest scuff has a story worth telling.
Your RM's will need the occasional service and that's where our Boot Repair Room steps in. It takes time to make something special, which is why it's worth keeping your RM's in top-notch condition and investing in a little care and attention. Whether it be resoling your boots, fixing your stitches, or replacing the iconic tugs and elastic, our Boot Repair Room is equipped to bring your RM's back to health and you back on your feet. Consider them good as new, but with that old boot feeling.
Learn about boot repairs
order a boot repair online
CLEANING, CONDITIONING & POLISHING FINISHED LEATHERS
CLEANING FINISHED LEATHERS
Apply R.M.Williams Leather Cleaner directly and evenly onto the leather. Rub cleaner evenly over surface with a damp cloth until clean. Remove any excess cleaner with a dry clean cloth.
CONDITIONING FINISHED LEATHERS
Apply R.M.Williams Leather Conditioner evenly to finished leathers with a clean cloth or hands. Allow the conditioner to penetrate before buffing off excess to a soft sheen. R.M.Williams Leather Condition should be applied regularly to finished leather footwear (every six weeks in humid conditions or as the leather becomes dry) to maintain and preserve the leather. Be careful not to over condition. For finished uppers this has the added benefit of reducing harmful polish build-up.
POLISHING FINISHED LEATHERS
Apply R.M.Williams Stockman's Boot Polish to finished leathers with a clean cloth and rub in well. Buff briskly with a buffing cloth to obtain a high shine. For boots which are badly scuffed, optimum results will be achieved if the polish is left on the uppers overnight. This will ensure the pigment is absorbed into the leather. Buff briskly with a shoe shine brush and finish with a buffing cloth to obtain a high shine.
LEarn MORE about boot care
Shop leather care products