'Our boots remind us of adventurous times'
Lily: I wear Craftsman. They're my RMs and you have on suede ones that I gave you. Isn't that so nice of me?
Grace: It was very selfless. Since the dawn of time, I've been getting Lily's hand-me-downs...
Lily: Well, I already had these before so I thought, 'Oh, I'll just be so benevolent and give you a pair, just so we could be matching in our outfits.' Well, I feel like I only gave them to you because I can always steal them back if I need to...
Grace: That's true. Which she has done on multiple occasions, but they always end up back at my house, so it's okay.
Lily: Actually, these brown Craftsman boots were my first ever pair of RMs, though I feel like I have a lot of scuff marks for seven years. Haven't quite cracked a decade in them, but I've got that to look forward to. I was actually thinking about the RMs the other day... We grew up in a rural area and our family has a tradition where, once a year, our whole family goes and spends a weekend away – usually at Easter or the long weekend – at a friend's bush property in Mudgee. And this is the one pair of shoes that I take every year, because they just really suit the landscape. You go feed the sheep, you go check the boundaries, you jump on the bike... I always wear them.
Grace: They get put through the ringer. With mine, they're pretty pristine. And I think that's because they're suede – I will not let one single drop of rain touch these shoes! You've got to treat them right!But, actually, they're a perfect gig shoe. We've worn these to a lot of festivals and to gigs we play. The boots are just so seamless from day to night.
Lily: I like boots that have a streamlined silhouette. I can't do chunky, whereas some boots look too heavy or are like big army boots and that's not really my vibe. I feel like these are just me in a boot. It just feels classy. Nice and streamlined. And also, I have the same shoe size as all my friends, but this is one shoe that no-one else fits apart from me, so they are literally just my shoes. I don't share them with anybody. Even you Grace.
Grace: These are a great staple. And they're shoes that we'll wear to gigs, whether it's our own show or going out watching gigs ourselves.
Lily: We were talking about this the other day and saying these shoes, specifically for some reason, I don't know what it is, even compared to all the other shoes we own, these remind me of going out to gigs, going on bush walks, going hiking, going adventuring – they remind me of adventurous times.
Grace: The shoes are so resilient and they're a great companion – they make me feel tough, because they're going to get you through whatever terrain you're in.
Lily: Particularly the Craftsman, the heel isn't too high, but they have a striking look, they're not too fancy, which is especially good at gigs when you're jumping around playing, you don't want to feel too over the top, but not too casual. You want them to be... just right.
Made by Hand. Repaired by Hand. Worn by You.
You can tell a lot about a person by the state of their boots. Some of our customers bought their first pair of RM's over half a century ago and still wear them till this day. In fact, some would argue, as did RM himself, that the worst their boots looked, was the day they bought them. With every wear, your pair is branded with personality. Even the smallest scuff has a story worth telling.
Your RM's will need the occasional service and that's where our Boot Repair Room steps in. It takes time to make something special, which is why it's worth keeping your RM's in top-notch condition and investing in a little care and attention. Whether it be resoling your boots, fixing your stitches, or replacing the iconic tugs and elastic, our Boot Repair Room is equipped to bring your RM's back to health and you back on your feet. Consider them good as new, but with that old boot feeling.
Learn about boot repairs
order a boot repair online
Caring for your suede leather boots
Every leather upper in every boot was originally a living, breathing skin and as a result, needs to be maintained like one. Treat it well, condition it and give it the occasional polish and it will not only last longer, but will survive whatever you throw at it.
PROTECTING SUEDE OR NUBUCK LEATHERS
Prior to wear, spray R.M.Williams Suede Protector in one direction, onto clean footwear at a distance of 20cm and allow to fully dry. Spraying in the opposite direction, repeat this process for a total of 3 times for best results. This will help repel water and protects against stains that occur with regular wear.
CLEANING SUEDE OR NUBUCK LEATHERS
For suede or nubuck leathers, R.M.Williams Suede Cleaner should be used Spray onto a clean cloth or sponge and work cleaner in a circular motion to surface of boot. Leave to dry naturally and brush up nap when dry.
LEarn MORE about boot care
Shop leather care products
CLEANING, CONDITIONING & POLISHING FINISHED LEATHERS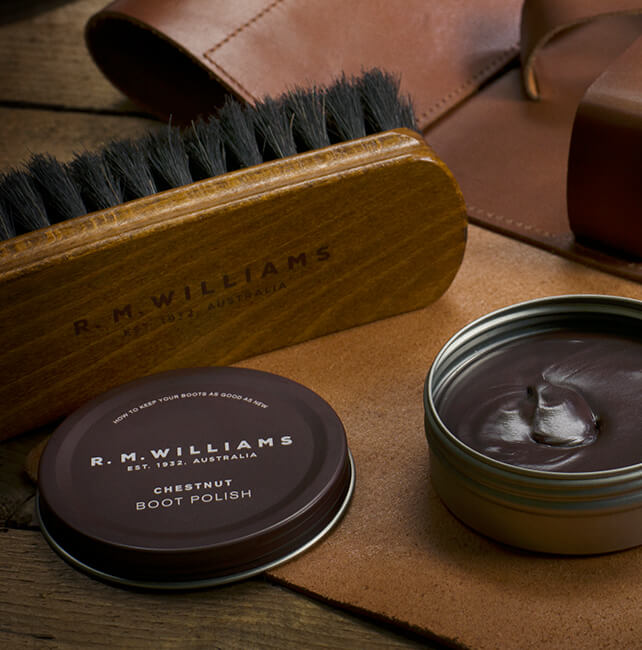 CLEANING FINISHED LEATHERS
Apply R.M.Williams Leather Cleaner directly and evenly onto the leather. Rub cleaner evenly over surface with a damp cloth until clean. Remove any excess cleaner with a dry clean cloth.
CONDITIONING FINISHED LEATHERS
Apply R.M.Williams Leather Conditioner evenly to finished leathers with a clean cloth or hands. Allow the conditioner to penetrate before buffing off excess to a soft sheen. R.M.Williams Leather Condition should be applied regularly to finished leather footwear (every six weeks in humid conditions or as the leather becomes dry) to maintain and preserve the leather. Be careful not to over condition. For finished uppers this has the added benefit of reducing harmful polish build-up.
POLISHING FINISHED LEATHERS
Apply R.M.Williams Stockman's Boot Polish to finished leathers with a clean cloth and rub in well. Buff briskly with a buffing cloth to obtain a high shine. For boots which are badly scuffed, optimum results will be achieved if the polish is left on the uppers overnight. This will ensure the pigment is absorbed into the leather. Buff briskly with a shoe shine brush and finish with a buffing cloth to obtain a high shine.
LEarn MORE about boot care
Shop leather care products
Shop Lily & Grace's boot style