Outback on Song
Michelle Leonard's music career took a dusty turn when she tuned in to the voices of the children of western New South Wales, but she has no regrets.
STORY by Therese Hall PHOTOS by David Smyth and Mike Bell
During the early 1980s, when Michelle Leonard was growing up in Coonamble, north-west NSW, she learned to play the piano and the clarinet, played in the school band, sang in the church choir and performed in the annual school musical. "It wasn't anything unusual," she says. "You were either into horses, sport or music."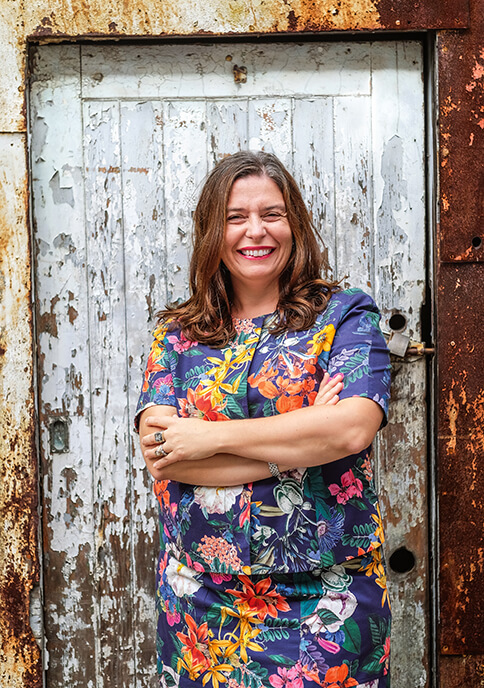 By 2005, the situation had changed entirely. "There was no music anymore," she says. "It was seen as something you had to go to an elite educational institution to pursue." Somewhere amidst the shut-up shopfronts, discontinued services and teacher churn in western New South Wales a thriving music culture was lost. Although Michelle left town in 1986 to attend boarding school in Sydney, study music at the Sydney Conservatorium, work as a music teacher in several Sydney schools and conduct several choirs and orchestras, her Coonamble origins remained close to her heart. When she observed the absence of musical opportunities for the young in the region, she was spurred into action. "I chose to use my professional capacity not only in Sydney, but in the area that I came from," she says.
Michelle is the force behind Moorambilla Voices, a powerful choral program that is changing the cultural landscape for children across outback New South Wales. Every year for the past decade, Michelle has selected, mentored and rehearsed children aged between eight and 18 to perform an original repertoire of music in a gala concert at Coonamble. "The establishment of a permanent rural remote choir is no mean feat in the Australian artistic landscape, let alone making it to double digits," she says. "Recently I was asked to find another organisation nationally that was doing what I was doing and I couldn't. There are plenty of exceptional ensembles, but none of them are generating almost their entire repertoire through composers-in-residence or doing more than 95 percent Australian works. And none of them are dealing with regional and remote communities, where 80% of their candidates require full financial assistance."
Michelle was at a career crossroads – with extensive music teaching and choir conducting experience – when she and two local women applied for funding to form a choir. "We all felt a sense of responsibility to improve things," she says. "We asked ourselves, are we going to become part of the problem or part of the solution?" This was the kernel for Moorambilla Voices, which has since touched the lives of at least 13,000 children across a huge swathe of western New South Wales. "At that point, my career could have gone in any possible trajectory," she says. "But you only get one life; I wanted to make sure I gave mine a really good shot and made it 'taste'."
Michelle refers frequently to 'taste' when discussing what motivates her to work in outback New South Wales. "What gives my life a taste is making music, and to do it in an area I love – that is so beautiful," she says. "I find the landscape of the region I grew up in unbelievably inspiring. I love flat plain country. I love the exhaustive possibility of placing an idea in the centre of that landscape and having it breathe life all over it."
For Michelle, the term 'taste' also denotes the flavour of a music program with strong principles of equity at its heart. "As long as I'm the artistic director of Moorambilla Voices, our choir candidates will always be chosen on ability," she says. "That tastes different to an organisation that requires the right amount of cash to join. I recognise that this is not a logical and cost-effective business model, but that doesn't mean it's not valuable. And it probably places me in the 'mad' category."
What Michelle laughingly describes as madness is actually the integrity that underpins her work. She credits her parents, Michael and Renee Leonard, who still run the town's newsagency after 50 years, for her strong sense of social justice. "My family is utterly committed to this community," she says. "We just thought it was normal to do our bit when we were growing up."
Michelle leaves her home in Sydney's inner west, where she lives with her husband, Luke Robinson, and four children, Sofia, 11, Max, 8, Ignatius, 3, and Sebastian, 1, for the western reaches of the state at least three times a year. In March, she spends two-and-a-half weeks covering about 2500 kilometres running skills development workshops for 2000 children in more than 70 schools, from Lightning Ridge to Condobolin, Bourke to Dunedoo. These are in effect auditions for the three choirs that combine to form Moorambilla Voices – a primary school boy's choir, a primary school girl's choir and a co-ed high school choir called MAXed OUT. "We aspire for excellence," she says. "We give everyone the opportunity, but it is our mandate that we give gifted candidates the chance to extend themselves regardless of their financial circumstances."
In the second school term, Michelle sends out letters of offer to up to 200 students who have made the cut, and in the third term she runs two residential camps in Baradine, in the central west of the state, to prepare for gala performances in September. Local people support Michelle at every point in the program. "That's where the Moorambilla Mums come in," she says. "They support us by fundraising within their communities.""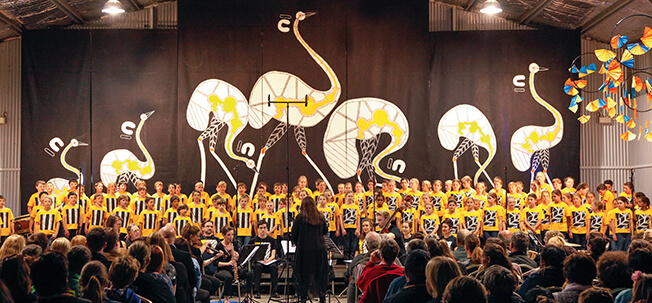 With more than a quarter of her candidates identifying as Indigenous, there's strong community support and the involvement of Indigenous supervisors, elders and artists. "There's an incredible sense of pride within Indigenous communities," she says.
Indigenous culture is one of the three pillars of the Moorambilla Voices program. "We use it as a springboard, like you would fairytales," Michelle says. Last year, music was written around Gamilaroi celestial stories of the emu sisters. Local legends are not only told through music, they are also conveyed through movement and visual art. "We place Indigenous culture at the centre of everything we do. It's not tacked on at the end."

According to the judges in the Music and Communities National Award, Moorambilla Voices is a world-class initiative that amalgamates the talents and resources of a region with those of visiting professional artists: "It is not often that you see young community members from rural and remote Australia given the opportunity to be at the heart of a cultural program this rich and diverse." One of the exceptional features of Moorambilla is the composer-in-residence program. Most of the music is composed during the August skills workshops, with the culture and environment of western New South Wales serving as inspiration. While the Pilliga Scrub sculptures and the Brewarrina fish traps have been past creative prompts, Narran Lakes, a series of ephemeral lakes in the north-west of the state, are the focus this year. "I really want my artists – TaikOz, Song Company and composers – to start the creation of the works in situ prior to the August camps," she says. "I want them to feel the power of the earth."
Another special feature of Michelle's program is the involvement of the 130-member Sydney-based Leichhardt Espresso Choir. "They passionately believe in this program," Michelle says. "Not only do they add musical gravitas, they offer support by putting money into the community, co-commissioning works and mentoring children." As an educator, Michelle has a firm belief in the power of music to transform childrens' lives. "Music is a language that suits almost all children," she says. "It gets their brains whirring. There are many children who find that level of extension very satisfying and who will make huge behavioural modifications to be involved. The flow-on effect that spills across to the rest of their lives is extraordinary." Michelle is an original thinker who approaches the enormous logistics involved in pulling together Moorambilla Voices in a pragmatic way. "It's 90% admin and 10% artistic delivery, but I don't think that undermines my art form," she says. "Fortunately, I grew up in a rural environment that demanded pragmatism. You have an idea and then you work out how to execute it, rather than it just floating around and never actually coming to fruition."
Michelle's father, Michael, is a staunch supporter. "I think she's an exceptional character," he says. "She travels all over the west – even to places that haven't got schools – to give children the opportunity to fulfil their dreams. When you stop to think about it, it's a big thing for one person." Michelle approaches her task of selecting the voices for her choirs with a combination of intuition and expertise. She compares forming a choir to the way a coach selects a sports team. "If you're building a football team, you can't have all glory boys," she says. "When I'm selecting my MAXed OUT choir I want the creative thinkers, the dancers, the singers, the tappers, the left-of-fields, the silent and deadlies, the visual artists. I want them all. It's my role to make the perfect black dress that hides all the flaws and highlights the assets. We're creating musical couture." And, like sport, candidates have to try out every year, even if they've been selected without fail in the past. "This is a positively competitive environment," she says. "And while some children can start in Year 3 and go through to Year 12 in a seamless transition, others will thrive in primary school and won't have the maturity to do the high school program until later. I'm very blunt: they're working in a professional environment. I expect them to behave like professionals." When Michelle is auditioning children, she is listening for beautiful, clean, in-tune voices. This is where her special powers come to the fore. "I have a photographic memory for voices," she says. "I can hear a family resemblance in voices. It's like people who look at horses or dogs and see their pedigree."
As 2015 is Moorambilla's 10th anniversary, it's a special year for Michelle as its artistic director. For the first time, the gala concert will be performed in Dubbo Regional Theatre instead of Coonamble. "It's going to add something artistically because it's a theatre stage with lighting and projection screens," she says.
As she heads off across the outback on her annual quest to uncover talent, Michelle is prepared for the inevitable ups and downs of the process. "Sometimes a voice doesn't fit into the choir one year, especially during adolescence," she says. "I'm always very open with them and tell them they've got to let nature take its course.
"But the most important thing I tell them is that there's always another chance. I'm not going to let them down – I'm going to come back again next year. That's a rare thing in remote areas."
Moorambilla Voices receives limited government support and relies on public donations for its work. For more information go to www.moorambilla.com
This story first appeared in the 2015 Magazine Great Australians: 20 Living Legends of the Bush.
For more information about any of our publications:
+61 2 9028 5428
outbackmag.com.au
Follow us on Facebook or Twitter
See more stories from the heart of Australia on instagram
@rmwilliamsoutbackmagazine